*This article was originally written for Travel & Destinations (www.travelanddestinations.com)
Rome is a great place to be for many reasons. Not only is Rome the eternal city with its stunning buildings and monuments, priceless art, and delicious cuisine, but it is also central and close to many of Italy's other gems.
Below, are 10 of the best day trips to take from Rome, perfect for adding incredible experiences when you are in the eternal city. These places are breathtaking and will surely present you with the authentic "La Dolce Vita" vibe that you are seeking.
1. Amalfi Coast & Positano
The Amalfi Coast is a massive 50 km spread of coastline in the Campania region. If you are driving there, you will get to enjoy some gorgeous scenery of its villas, terraced cliffs, charming gardens, lemon fields, and great beaches. You can also go to the Amalfi coast by taking the train to Salerno which is a beautiful place worth stopping for a few hours to check out.
The Amalfi coast is famous for its massive grapefruit-sized lemons that are the main ingredient for the popular Limoncello drink which you, of course, must try. The best part about the Amalfi coast is that it is home to the photogenic Positano village.
Positano was a former fishing village and is now the go-to romantic holiday destination for its luxurious and scenic hotels, colourful buildings, and delicious restaurants. Discover Positano on foot and witness its beautiful and small art galleries, its cute little shops, restaurants, and the famous Santa Maria church. You can also enjoy The Path of the Gods "Sentiero Degli Dei" hiking/walking trail.
2. Turano
Lago di Turano is beautiful and almost looks unrealistic. It is so gorgeous that it has been used several times as a film location during the filming of "The Patron" movie starring Lucio Dalla. Turano is just 1 hour & 20 minutes away from Rome by car. You can also reach it using a special bus that goes to Rieti.
All you need to do when you arrive is spread a picnic blanket and just enjoy the view of the mountains surrounding the turquoise-coloured lake, all while eating some fresh pizza prepared by the artisanal bakeries nearby. Turano lake is a great location to tan and then cool off with a dip in the beautiful lake. You can also check the delicious restaurants located in Castel Di Tora nearby.
Location: See on Google Maps
3. Naples and Pompeii
Naples is located in southern Italy and is one of the most unique destinations close to Rome and is also the birthplace of pizza. While in Naples, check Galleria Umberto I, Saint Carlo theatre, Naples Cathedral, Capodimonte royal palace and museum, the National Archaeological Museum, the veiled Christ at Cappella Sansevero, and Castel dell'Ovo.
Later, have a walk along the beautiful Piazza del Plebiscito, and Spaccanapoli (street) which is a Unesco World Heritage Site, and enjoy the traditional pizzerias and pastry shops, the historic monuments, and churches in this gorgeous city.
One of the most famous attractions in Naples is Mount Vesuvius, which is a still-active volcano that destroyed the Roman town of Pompeii (the most famous archaeological excavation site in Italy). Take a train from Naples to see the incredible ruins of Pompeii. Pompeii is approx 17.3 miles (28 km) from Naples and would take you around 30 to 40 minutes to reach.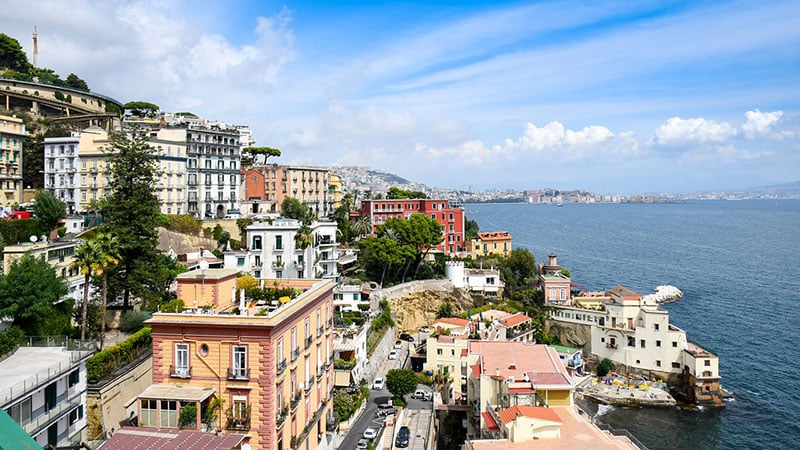 4. Sorrento
Sorrento is a city with beautiful sloping terraces decorated with cultivations of oranges, grapevines, lemons, and olives. It is a gorgeous city that overlooks Naples's bay, the great Vesuvius volcano, and the islands of Ischia, Capri, and Procida can be seen in the far distance.
You can reach Sorrento by using a bus from Rome. Buses depart each day from Roma Tiburtina station. You can also reach Sorrento by taking a train from Naples. You could also explore Sorrento through a tour such as seen below.
While in Sorrento, take a walk along the old town centre and Piazza Tasso where you can find great shops, cute café's, restaurants, and many bright yellow local limoncello shops. You can also enjoy a great beach day in the unique beach clubs. These are built on decks out into the water.
5. Capri
Capri is definitely a dream destination. The Island of Capri is located just a few miles from Sorrento and the Amalfi Coast. The only way to reach the island of Capri is by sea. If you are coming from Rome, you need to take a train to Naples and Sorrento (usually takes 1 hour on the fast train) where ferries depart from. During the summer months, there are also ferry routes from Positano, Ischia, and Salerno. You can of course also take a tour (see below).
The island is divided into two municipalities: Anacapri and Capri. The centre of Capri town is about 150 meters above sea level while Anacapri is at a higher altitude. There are also two villages directly on the coast: Marina Grande and Marina Piccola.
While in Capri, have a boat tour around the island and discover the quaint Blue Grotto. You can also, go up Mount Solaro with a chairlift to see a breathtaking view from the top. Check out the Sphinx at Villa San Michele, which is a villa built by Axel Munthe, a Swedish physician and writer. This villa has one of the most scenic views of Capri. Later, have a stroll in the centre of Anacapri where you can go shopping for unique clothing and gifts. At night, cool off in the "Piazzetta" with a drink and dinner in the amazing restaurants around.
6. Florence
Florence is Tuscany's capital and is a dazzling place and also within reach of Rome. You can easily reach Florence by a comfy train ride from Rome which are 162 miles apart. If you want to reach there in less than 2 hours, use the available high-speed trains. Florence is a picturesque place and home to several famous art pieces and architecture from the Renaissance era.
While in Florence, you must check the iconic Cattedrale di Santa Maria del Fiore (Duomo di Firenze), The Uffizi, Galleria dell'Accademia, Giardino Bardini and Piazzale Michelangelo. Have a stroll in Florence's center and enjoy the central markets and Piazza Santo Spirito where you can find fresh pastas, pizzas, truffle bars, delicious wines, and leather shops.
7. Bracciano
Bracciano is a small quaint town in Lazio. It is located only 50 minutes away from Rome by car and 1 hour by train. The town is famous for its volcanic lake, Lago di Bracciano, with its black, sparkly and smooth sand. The lake is surrounded by beautiful medieval towns, lush green mountains, and great architecture.
Bracciano also has a famous palace, Castello Orsini-Odescalchi which is known for holding the wedding of Tom Cruise and Katie Holmes. The lake is besieged by charming aperitif places where you can have drinks with some delicious local food. You can also have a nice lunch or dinner inside the town away from the lake.
Location: See on Google Maps
8. Tivoli
Who knew that a 3-euro train ticket from Rome can take you to this little haven called Tivoli? Tivoli is a small town in Lazio located 1 hour and 25 minutes away by train and 40 mins away by car from Rome.
While in Tivoli, make sure to visit the 16th-century Villa d'Este famous for its terraced hillside Italian Renaissance garden and especially for its plethora of fountains. The Villa is now an Italian state museum and is listed as a UNESCO world heritage site. This villa is one of the most beautiful villas you can visit.
Do not forget to check The Temple of Vesta, Villa Gregoriana, Hadrian's Villa and Rocca Pia. Head to Via delle Cascatelle, a walkway surrounded by the amazing views of waterfalls that cascade in the northern part of Tivoli.
9. Sperlonga
Sperlonga is the perfect getaway since in a way it resembles a little Greece. The vibe is amazing, and the water is crystal clear. Sperlonga was awarded a Blue flag status for high water quality and standards. You can immediately feel that you are far away from the stress of the city.
How to get there? Take the regional train headed to Naples from Roma Termini station and then get off at Fondi-Sperlonga. Once there, take the Piazzoli bus for 20 minutes to Sperlonga (€1.50 bus ticket – note the price may change). While there, enjoy a relaxing beach day with some cold prosecco and then have lunch at the many tasty and fresh seafood restaurants.
10. Anzio/Nettuno
Anzio and Nettuno are only 10 minutes apart and are easily reached from Rome's termini station in 60 to 70 minutes.
How to get there? One train per hour leaves from Termini station, stopping first at Anzio and then at Nettuno. Anzio was also awarded a Blue Flag status for its high-quality waters.
While in Anzio/Nettuno, enjoy a great beach day and then have a stroll in the centre where you can find many local products made fresh daily. You can get a delicious panino (sandwich) with fresh mozzarella di bufala for just 5 euros.
Summary:
If you are planning to visit Rome over the summer, then these day trips will guarantee you the trip of a lifetime. Rome is not only a great place to be because of its beauty and perfect temperature, but it is also blessed to be close to many of Italy's "bucket list" destinations and which are crazy beautiful. So, when planning your trip to Rome, you must try and include these day trips on your list!