*This article was originally written for Travel & Destinations (www.travelanddestinations.com)
The Caribbean has a staggering number of islands with more than 7,000 islands to discover. These islands not only offer the most spectacular beaches but also a myriad of hidden gems, lagoons, caves, incredible mountains, and even some beautiful towns with European style architecture.
While in the Caribbean, you will get to enjoy its natural wonders, underwater sites, endless water sports and activities, and end up sleeping in the world's most jaw-dropping and dreamy hotels. Because one can't simply visit all 7,000 islands, instead here are nine of the most beautiful and must-visit Caribbean Islands perfect for a vacation!
1. Cayman Islands
The Cayman Islands in the Caribbean incorporates 3 islands: Grand Cayman, Cayman Brac, and Little Cayman. The Grand Cayman is the largest of the islands and is famous for its dreamy beach resorts and diverse snorkelling and scuba diving sites counting Eden Rock and Devil's Grotto.
Cayman Brac is a beautiful island with gorgeous beaches and is well known for being a popular starting point for deep-sea fishing trips.
From its name, Little Cayman, is known to be the smallest island. This island is astonishing as it's home to a huge variety of wildlife exclusive to the island. From endangered animals like rare iguanas (Rock Iguanas) to some unique seabirds, like the red-footed boobies.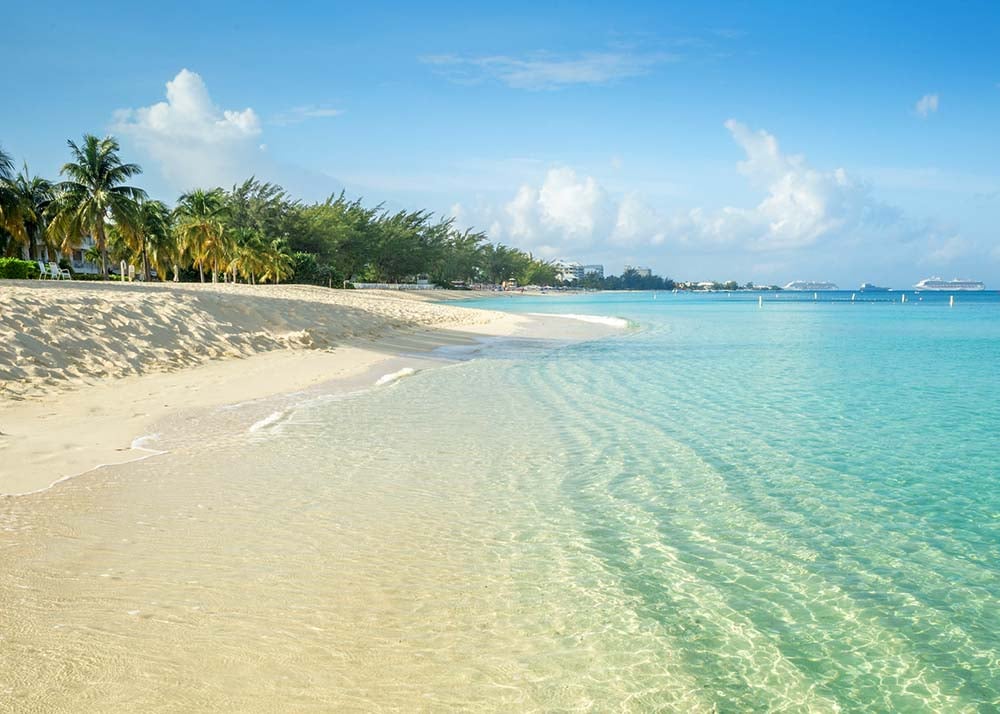 2. Aruba
Aruba is a Dutch Caribbean Island known for its continuous sunshine; in fact, Aruba enjoys the most days of sun in comparison to other Caribbean islands. Aruba is also famous for its golden beaches, bustling nightlife, safety, luxurious resorts and hotels.
While in Aruba, enjoy a beach day at the Eagle Beach, Hadicurari Beach or Palm beach which are all free of charge. Also, you can visit the Casino at Hyatt Regency Aruba, the Aruba Donkey Sanctuary, the butterfly farm and also benefit from an amazing hike at Arikok National Park.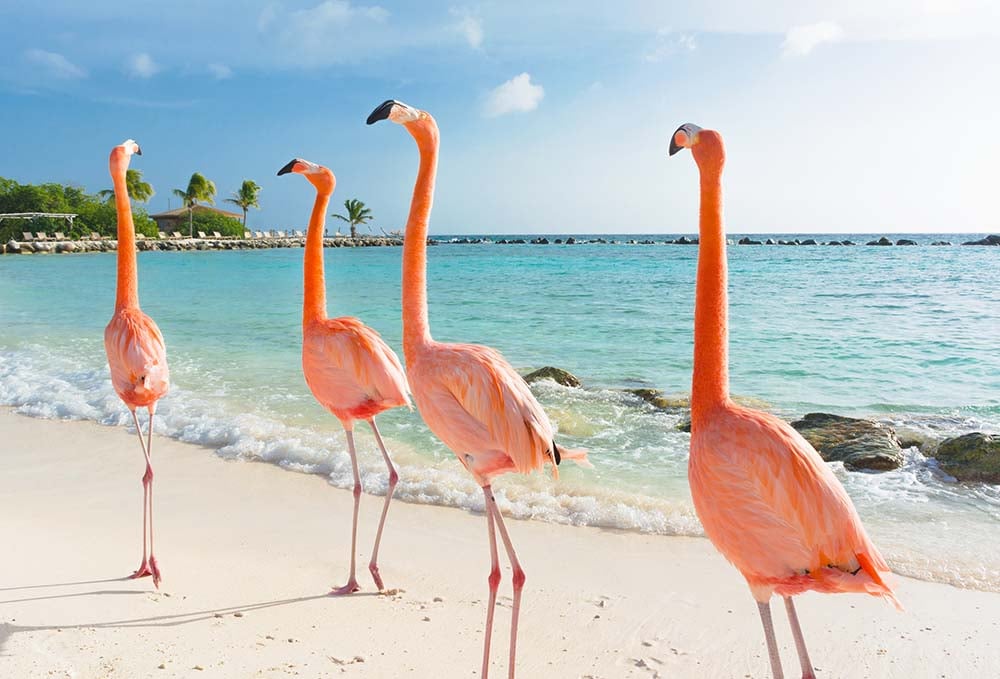 3. The Bahamas
The Bahamas is an island country situated within the Lucayan Archipelago. It covers around 97% of the Lucayan Archipelago's area and houses about 88% of the archipelago's population. Two of the "Pirates of the Caribbean" movies were actually shot in the Gold Rock Beach in Lucayan National Park of the Bahamas.
The Bahamas is a great place to unwind and have a relaxing vacation. While there, make sure to hit the free beaches of Pink Sands Beach and Cable beach and the famous pig beach where you can enjoy water activities like snorkelling, diving (coral reefs, underwater caves..), boat tours, and even horseback riding.
Also, make sure to visit the Lucayan National Park, Clifton Heritage National Park, Versailles Gardens, the Glass Window Bridge and Blue Lagoon Island.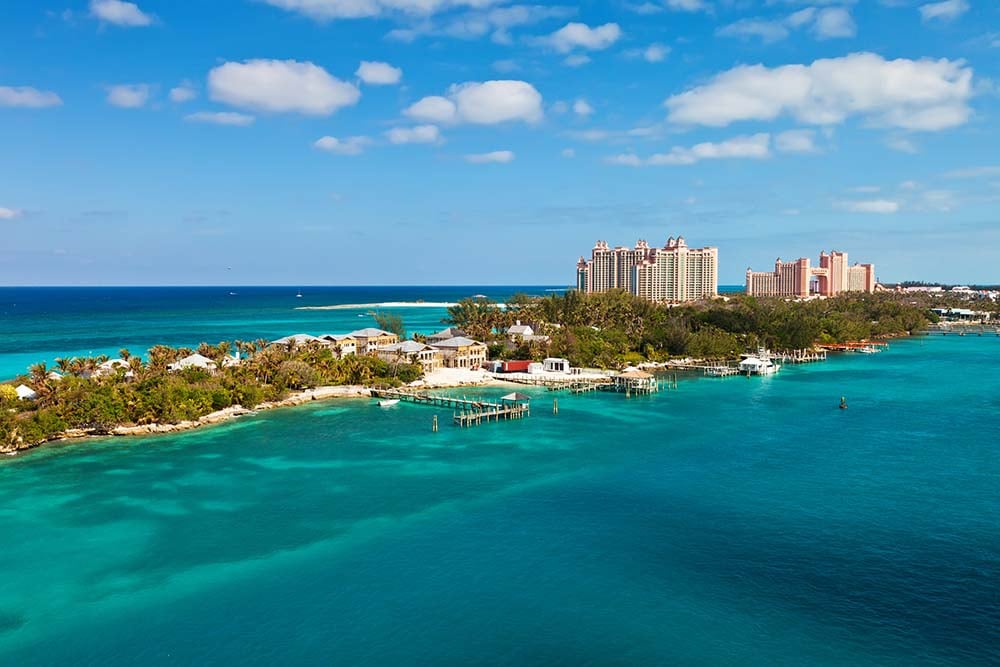 4. The Dominican Republic
The Dominican Republic is a Caribbean nation famous for its gorgeous vast beaches, golfing, and lavish resorts and hotels. The Dominican Republic has a diverse terrain as it has a rainforest, savannahs, and highlands, counting Pico Duarte, the Caribbean's tallest mountain.
While there, make sure to visit the Dominican Republic resort destination: Punta Cana and Puerto Plata where you will find great beaches such as Bavaro Beach and Playa Dorada. Enjoy a stroll in the lively street of Calle El Conde, where you can enjoy shopping, food, dinner and even gazing at some old ruins.
If you want to try Kiteboarding, make sure to go to Cabarete's Kite Beach which is the ultimate kiteboarding destination.
Your trip won't be complete without checking the 27 Waterfalls of Damajagua, Bahia de Las Aguilas, Isla Saona and Parque Nacional de Este.
5. Barbados
Barbados is an eastern Caribbean Island surrounded by surfing beaches, historic homes, botanical gardens, caves, and golf courses and is a great place for active travellers. The capital of Barbados (Bridgetown) is well-known to be a cruise-ship port with beautiful colonial buildings.
If you are looking for a full day of swimming, surfing, kayaking, and snorkelling for shipwrecks and marine wildlife then Carlisle Bay should be your first choice. You can also enjoy a day at these free beaches: Bathsheba Beach (surfer's paradise), Dover Beach (windsurfing), and Miami beach.
More things that are worth seeing include Animal Flower Cave (the only accessible sea cave), Harrison's Cave, Andromeda Botanic Gardens, Hunte's Gardens and St. Nicholas Abbey.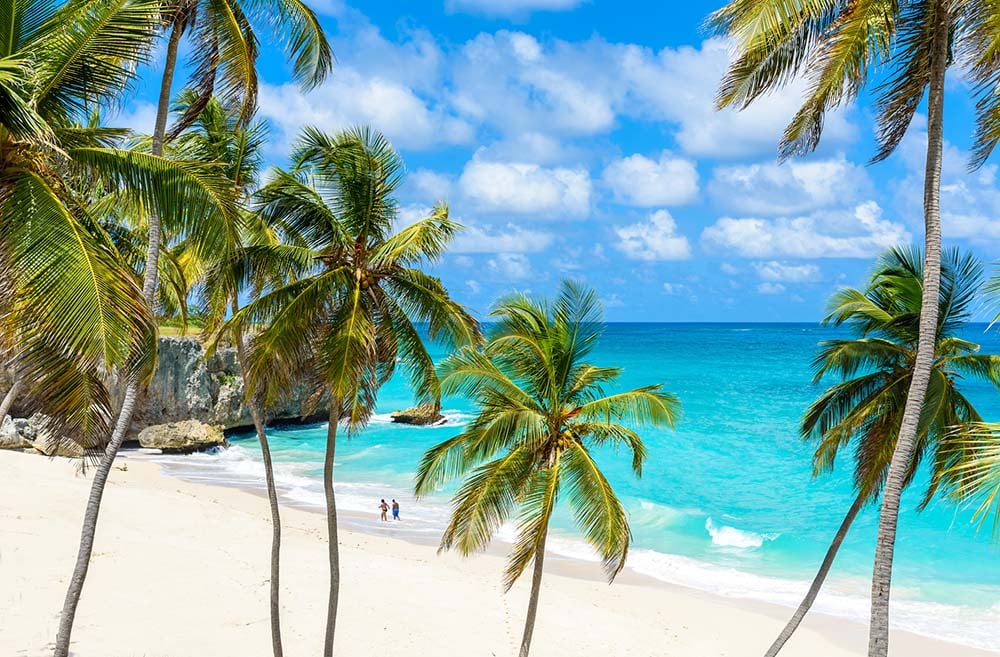 6. Saint Lucia
Saint Lucia is an Eastern Caribbean Island home to volcanic crescent-shaped beaches, coral reef diving sites, waterfalls, fishing villages, luxurious resorts, and hotels. Saint Lucia is famous for the Pitons, which are St. Lucia's twin towering peaks and is part of the UNESCO World Heritage sites. The large Piton stands at 2,530 ft high, while the small Piton is 2,438 ft high high. Both of them were formed 200,000 to 300,000 years ago by volcanic activity. The best panoramic view of the Pitons can be found in the fishing village of Soufriere.
If you are a fan of snorkelling and diving, head to "Anse Chastanet Marine National Park" where you can find all kinds of marine wildlife from corals, coloured sponges, soft corals, brain corals, Frogfish, goatfish, wrasse, parrotfish, and barracudas.
To see the some great waterfalls, head to Diamond Falls Botanical Gardens and Waterfall & Mineral Baths.
Other top things to do and see in Saint Lucia include Pigeon Island National Park, Edmund Rain Forest Reserve, Morne Coubaril Historical Adventure Park, Marigot Bay and Rodney Bay.
7. Antigua
Antigua is one of the 2 major islands that make up the Caribbean nation of Antigua and Barbuda. Antigua is known for its endless sandy beaches, coral reefs, delicious food and iconic sceneries and views. In Antigua, you can visit a new beach literally every day of the year as it has 365 beaches!
While there, begin your journey with a hiking trip from Galleon Beach in English Harbour to the summit of Shirley Heights and witness the breathtaking views of the active volcano of Montserrat and the southern island of Guadeloupe. Later, head to the beaches of Half Moon Bay, Hawksbill beach, Dickenson Bay, or Galley Bay Beach.
Also, check the Devil's Bridge (natural limestone arch), Betty's hope museum, the Museum of Antigua and Barbuda, Nelson's Dockyard (English Harbour), and Antigua's Rain Forest Canopy Tour.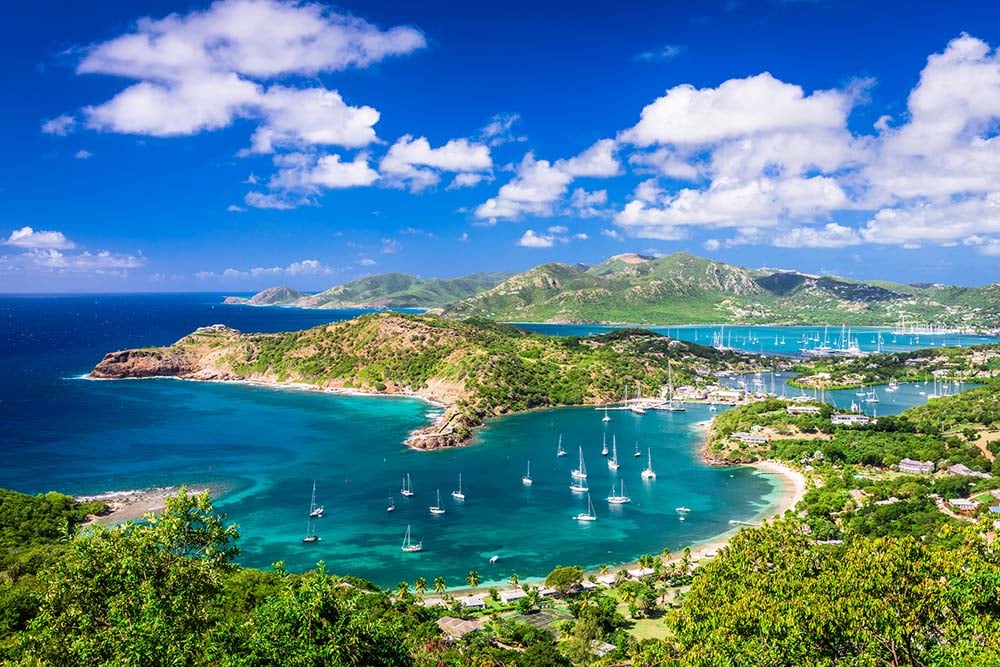 8. Puerto Rico
Puerto Rico is a Caribbean Island with a beautiful landscape of rainforest, mountains, waterfalls, and the sea. What is great about Puerto Rico is the existence of its two extremes: where the activities can range from exploring the jungles of El Yunque, and ziplining through trees to checking the El Morro Fort (the 500-year-old walls) and shopping in Old San Juan Street.
Start your tour by taking a nice stroll through Old San Juan Street, where you can find many of the popular attractions like the Casa Blanca Museum, El Morro fort, Calle del Cristo, Calle de la Fortaleza, and Castillo San Cristóbal. There you can do lots of shopping and also find some great food to try as there are many street vendors selling a variety of foods and drinks. You'll also find tours to help you explore this area and enjoy the best food.
One of the things that you will find very inspiring is the Bioluminescent Mosquito Bay where the water glows blue at night due to the organisms that live there called dinoflagellates. Other top things to see include Flamenco Beach, Sun Bay (Vieques), El Yunque National Forest, Carabalí Rainforest Park, Cueva Ventana and Museo de Arte de Puerto Rico.
9. St. Martin – St. Maarten
Saint Martin includes 2 different countries, divided between its French side of Saint-Martin in the north, and Sint Maarten, the Dutch side in the south. The island is home to eventful resort beaches, private coves, fusion cuisine, vivacious nightlife, jewellery and liquor shops.
While there, enjoy the many beautiful free beaches like Mullet Bay Beach (St. Maarten), Cupecoy Beach (St. Maarten), Orient Bay (St. Martin), Maho Bay (St. Maarten) and Friar's Bay (St. Martin). Go to the Front Street in Philipsburg (duty-free) where you can go shopping for all sorts of things, ranging from jewellery to electronics and more.
Make sure to also check St. Martin National Nature Reserve, the butterfly farm, Loterie Farm (St. Martin) and Pic du Paradis (St. Martin).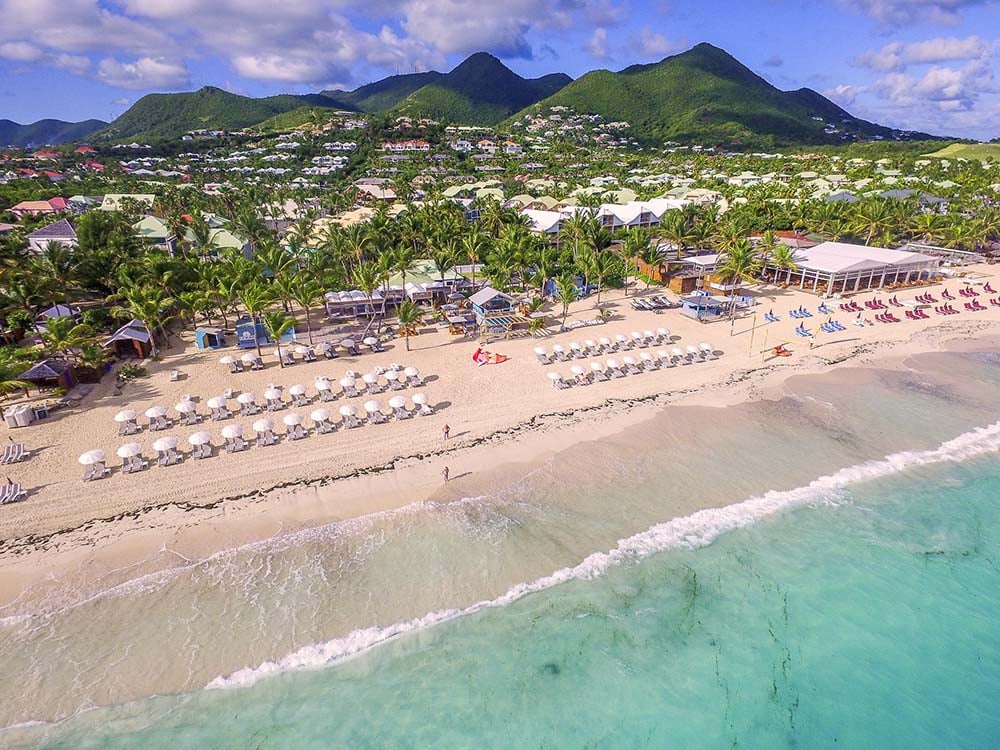 Summary:
If you are looking for a once in a lifetime trip, then be sure to visit the Caribbean islands. You will get to enjoy everything from great weather, sunshine, friendly people, golden beaches, natural wonders. As well as great food, drinks, water sports, breathtaking scenery beyond imagination and so many more adventures. Although there is a great number of islands in the Caribbean, make sure to keep the islands recommended in this article on your list!